Welcome to Week Six(ish) of the One Room Challenge! I am beyond excited to share the final room. The last seven weeks (the ORC was so, so generous to give us extra time) has felt never ending. This project was challenging to work on, since my husband was actively using it for work-from-home. I often found myself squeezing in some time between his video calls and working over and around him as he worked, too many times to count…he was so patient and such a trooper!
You can look back on previous weeks below.
WEEK ONE | WEEK TWO | WEEK THREE | WEEK FOUR | WEEK FIVE
Let's take a quick look at the before photos, once again…in all their glory.
Not too bad. However, this is really what it looked like most of the time.
Oh, but what good is an after without the shameful before?!
The "office" was a glorified dumping ground.
Now we have a proper office that houses all the essential office items, hidden in the cabinets, and gives both my husband and I nice large desks for work and projects.
The office is right off our entry and now I'm happy to say I'm no longer embarrassed for our guests to see it when they are welcomed in.
Please join me for a lovely photo tour of the space. I hope you enjoy it as much as we are.
Welcome to A Proper Office.
Isn't that a pretty little entry view? Well, hello…don't mind if I do come right on in.
This is my side of the office. I have just a small little home base area. I normally work all over the place, but it's very nice to have a spot to put everything when I'm done for the day. I sometimes work in here while my husband is working.
landscape art | tree art | vase | art light | chair
The art above the desk is a poster print from an Etsy shop with an inexpensive Ikea frame. The glare from the plexiglass was so bad that you could not see the print very well at all. So, this display became a DIY project. I glued it to the frame backing and modge podged over it. It's a technique I have used before for another poster print that is in our great room. It worked beautifully and now the print is the highlight.
The tree print is also from the same Etsy shop. I requested a custom size to fit this space. The shop owner was wonderful to work with and so quick. I debated doing a similar DIY frame for this print but due to its size, I was having a difficult time finding a ready made frame. So, this print was custom framed at a local frame shop. It is stunning.
I nixed the plans to put sconces on either side of the tree print. I absolutely loved the idea on paper, but once everything started coming together, I did not like how far they came off the wall. This space is fairly narrow and they intruded on the space near the door as you come in. So, there is another art light on order that I'm likely going to put over the tree art.
Doesn't this print look gorgeous and vintagy? The light is battery powered and operates by remote. It's a great option for spaces where you don't want the added expense of adding hard wire. I added a little gold rub to it to tone down the plastic finish and make it look more like the other brass pieces in the space.
bookshelf | baskets | brass bowl | acrylic file | desk note dispenser
The shelf is just everything. It's functional and beautiful. I added some new accessories and others I have had for some time now. I was very excited to finally find a spot to use the vintage brass candelabra I purchased from Ebay several years ago.
Look how the sun just bounces off all this pretty brass. It's so gorgeous.
roman shade in the color stone textured
The ceiling came out so beautifully. Did you guess the right color? I could have done a nice crisp white, but ultimately decided I wanted it be a highlight in the space. The darker color helps to balance out the dark brownish black desk tops below.
ceiling color: Sherwin Williams color matched to Farrow & Ball Lamp Room Gray
EEK! Such a  pretty ceiling. Who would have thought a ceiling would make me so happy!
My husband's side of the room. He has a nice big space that has a beautiful view of the pond across the street. It's such a pleasant spot to work.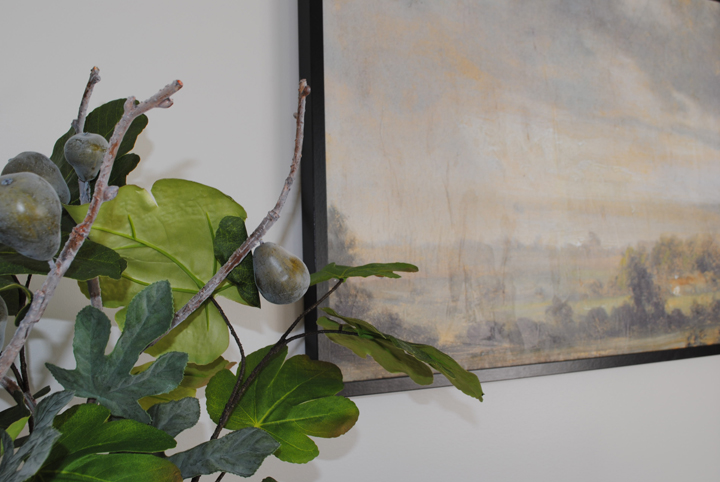 Thank you all for following along on this project. It was a roller coaster of excitement, dread (remember the meltdown?) and back to elation. I will never tire of seeing my ideas come to fruition. It truly is so incredibly amazing to create beautiful spaces to share with loved ones and create lasting memories.
Since this space started coming together, even before it was complete, it has been a hard working home office, a quiet retreat for my kids to study, a playdate hangout space, but most importantly, a place to gather and create.
Here's to many more original uses for this space.
Oh…and as I type…I have paint on my hands from the next project. Wink wink.
Please take some time to check out the final spaces of all the guest participants here. And the featured designers here.