In honor or Earth Day, I'm sharing how to use house plants in your home decor to fill voids and create interest in most every part of your home. With tons of inspiration photos.
I haven't always been a plant person. Like real, living plants. I have a bit of a black thumb. Mostly because I would forget to water them. Kind of a big deal. My mom had a plethora of plants in our home growing up. She used to collect all the plants, every week, and put them in her bathtub to water them collectively, and then return them all to their rightful homes. I don't really know why she did it this way. Ha!
Over the last several years, and more so in the last year, I have been adding more and more plants. I'm no "plant lady" by any means, but I have a fair share in our home. And I love them! Maybe the plant lady title is in my future.
EVERY ROOM SHOULD HAVE AT LEAST ONE PLANT
Why do I claim this, you ask? Besides the fact that they are beautiful and add life to your space?  Let's see…
For your health: clean air, rid of toxins, add extra oxygen and decrease stress…can't we all benefit from these!
To add color and texture: Green plants are my absolute favorites, probably because they tend to be easier to care for. But green goes with every color scheme. So you can't lose.
They soften corners and fill-in empty spaces
To add height and balance
INSPIRATION FOR ADDING PLANTS TO YOUR HOME
I personally select plants that will tolerate my lack of attention. It's an added bonus if they will "show me" they need water. Hey, a little visual never hurt anyone.
Here a floor plant is filling in a void near the front door, while also balancing the height created from the opposite stair case.
A fiddle leaf anchors the wall art creating a pretty little vignette.
A whimsical planter (his name is Jim by the way) is the home to a pretty little fern. Jim is a conversation starter and his oversized stature adds interest without creating too much clutter on this decorative bar cart.
The larger size of this gorgeous fern balances the scale of the tablescape. A smaller plant or accessory would be much less impactful.
Don't forget small spaces like nightstands and decorative baskets (with cute pups sleeping in the background).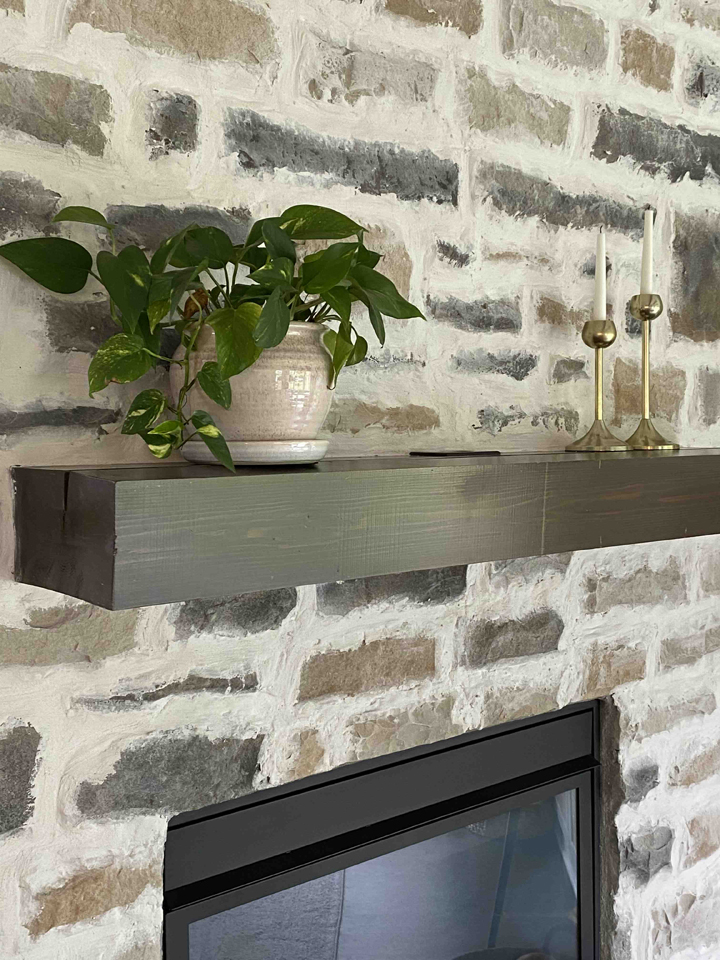 This pothos is a soft addition to our mantle…and does surprising well in this location. You can see how I updated the fireplace here.
I added an aloe plant to the back of the toilet in our master bathroom water closet. This bathroom has a nice big window for natural light.
That's a whole lot of inspiration for incorporating house plants in your decor. WOW! Maybe I am a crazy plant lady after all!