Today I talk about the most common interior design mistakes I see people make and how to address them so your home doesn't fall flat.
I know I'm all about not following the rules…it's even in the name…but unfortunately there are some things that can make or break your space and those may just be the things that are keeping you from loving your home.
This list is from actual interior design mistakes I have witnessed first-hand, more than a couple times, and tend to be the things that I have to address in the spaces I'm redesigning.
So let's dive in shall we?
INTERIOR DESIGN MISTAKE #1: GREY, ON GREY, ON MORE GREY
OK, this one might hit some hot spots. But hear me out. I understand that you may have put off updating your home for some time, and you know grey is very popular, so you go for it. Not giving too much thought into anything other than finally getting rid of all the earthy tones in your home. Thank you early 2000's!
Don't get me wrong, I love me some warm greys…my own home is painted Sherwin Williams Anew Grey. I don't have a problem with grey. Where the problem lies is when you paint all the walls in your home the next biggest color of grey, and then update your cherry floors with rustic grey wood and then accessorizing with yet, more grey.
I know I am picking on grey here, but you can insert any color. Too much of one color is well, too much.
Just stop the madness. Which leads me to…
INTERIOR DESIGN MISTAKE #2: NOT ADDING CONTRAST
Let's stay with the updated grey example we started with in #1.
If you update your walls to a beautiful new grey, then contrast that grey with a brown wood tone in the floors. It can be light, medium or dark tones of wood, depending on the shade of the grey you selected.
By doing this, you are building in much needed contrast into the bones of your room and will ultimately result in a much more pleasing space that will allow you so many decorating options moving forward.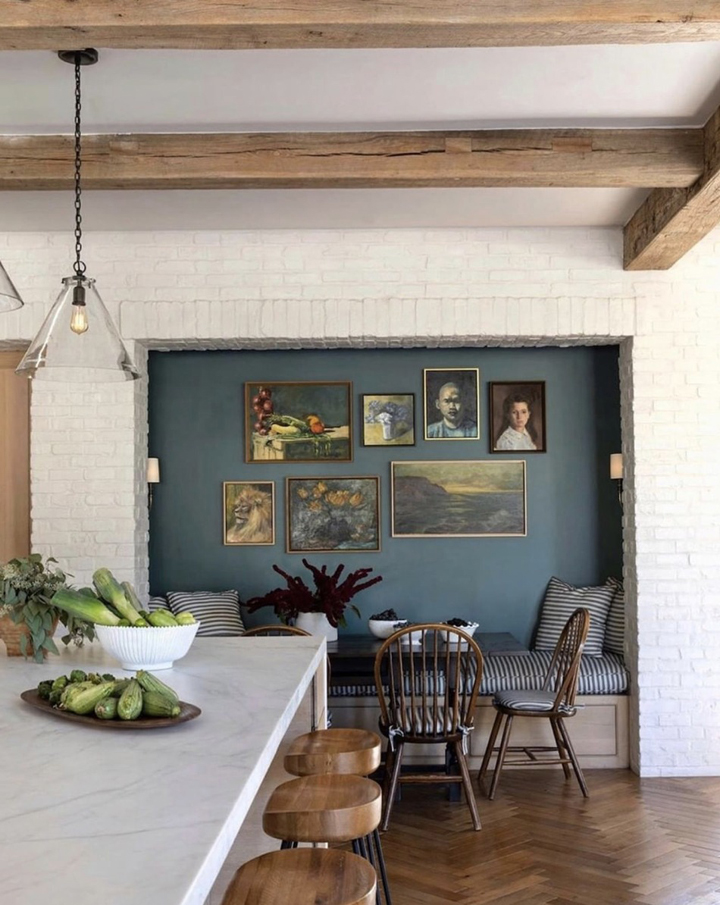 Source: Kate Marker Interiors
Same goes for your décor. See Interior design mistake #7.
INTERIOR DESIGN MISTAKE #3: NOT THINKING ABOUT CLASSIC PIECES
I know not everyone wants a traditional home…that's not what I'm talking about here. I'm talking about making sure the major pieces in your home are classic in design. No matter what is trending, if you keep to classic design on your big pieces, like sofas…and especially in your homes finishes, then your home will with stand the test of time. Use trendy pieces as accents
You can see more examples of classic bathroom combos here. And more on the master bathroom remodel here.
I don't think a home is ever really finished. They're constantly evolving. So when the major elements are classic you can update as you like to keep things looking fresh. And not spend a fortune updating high cost elements!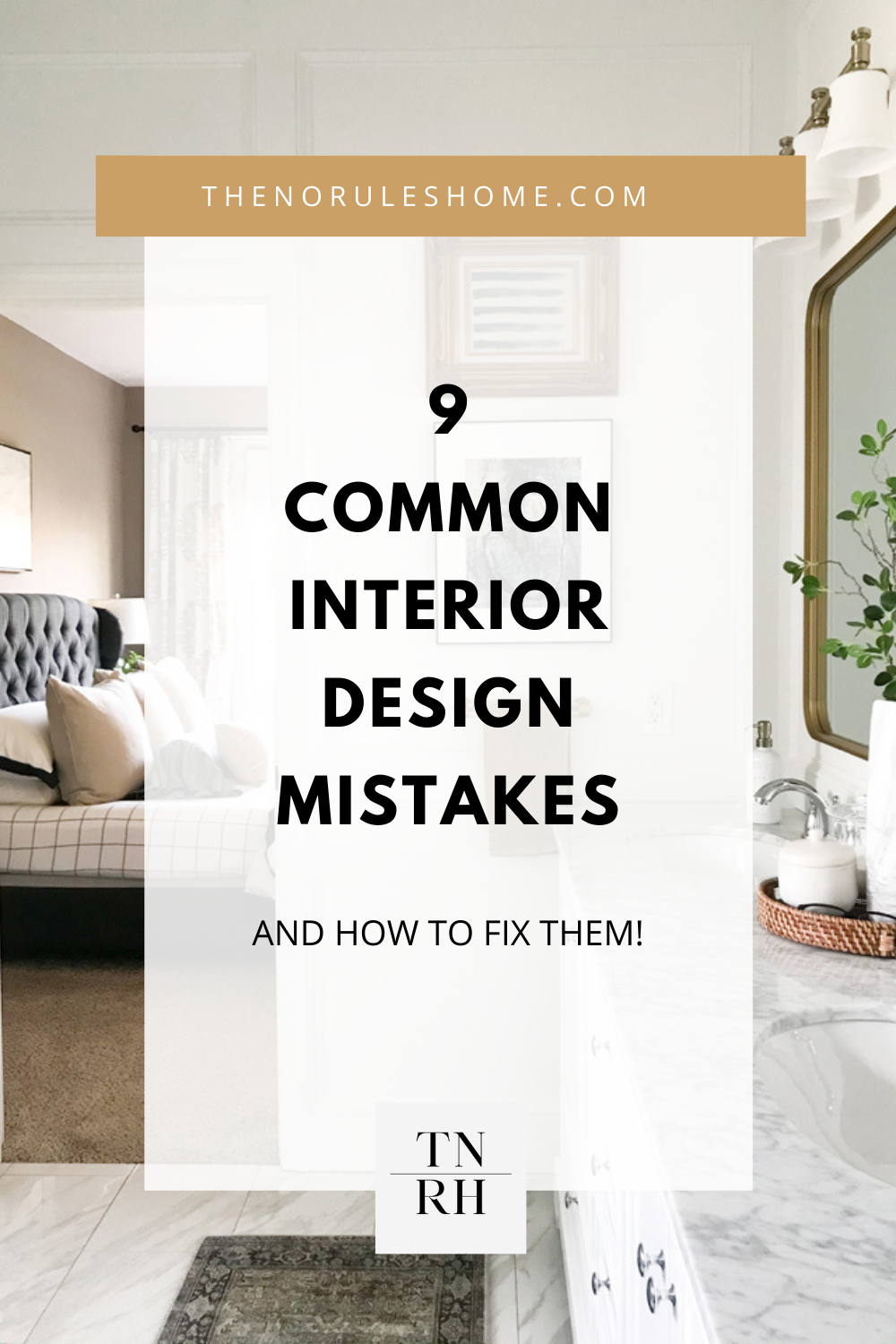 INTERIOR DESIGN MISTAKE #4: JUMPING ON THE TREND WAGON AND NOT KNOWING WHEN TO JUMP OFF
Trends in design. They are somewhat of my nemesis. Trends innately are fine. I know I jump on that wagon often, but what becomes a problem is when you try to incorporate a major trend, like shiplap for instance, and it never ends. It's like an explosion of shiplap all over your home.
Now if you live in a farm house, then by all means.
But most of us don't live in a farm house and should consider such trends in moderation.
Like how I added a faux shiplap wall using a Sharpie paint pin in my entry because I knew shiplap wasn't going to be the cool cat in town forever.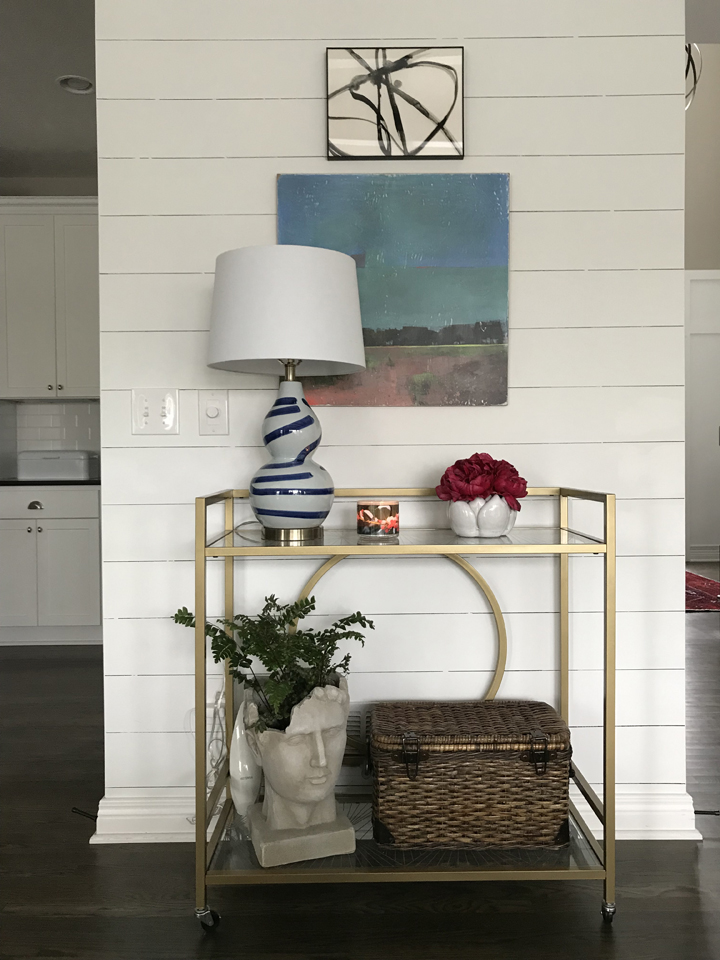 Or how I added shiplap to the ceiling in our home office. I wanted a statement ceiling and shiplap on the ceiling is a classic design element.
You can see more on our home office here.
And for the love of all things holy…stop with all the barn doors! Sorry. I needed to get that off my chest. Again, moderation…only when it makes sense.
I've been helping a friend with her home on and off for a few years. I was installing a gallery wall on to her huge barn door wall last year and snapped this pic. This here is a barn door done right.
INTERIOR DESIGN MISTAKE #5: PAINTING YOUR ENTIRE HOME THE SAME COLOR
This one can be tricky, especially with modern floorplans being open concept. It can be difficult to see where to change colors.
Color changes do not need to be huge and in some cases it's fine to keep to the same color because there's no real stopping point. But you need break up the color with other elements. My favorite way to do this is with trim work and wallpaper.
INTERIOR DESIGN MISTAKE #6: NOT ADDING TEXTURE AND PATTERN
Do not miss this point. Take the time to add visual texture and pattern to your space by thoughtfully layering in varying elements.
Examples of Hard Texture: wood, metals, stone, brick
Examples of Soft Texture: pillows, curtains, blankets, rugs, plants
Examples of Rough Texture:  concrete, brick, stone, rattan, grass cloth, baskets
Examples of Smooth Texture: glass, satin, metals
Think of it this way…
Linen sofa (soft) + burl wood coffee table (hard)+ black and gold accents (smooth)
INTERIOR DESIGN MISTAKE #7: EVERYTHING IS ALL MATCHY, MATCHY
A space that feels collected over time will have much more visual interest. And visual interest is what makes a room feel welcoming.
The number one way to avoid a matchy, matchy room is to NOT BUY SETS. Step away from the sets and their perceived deal and ease.
 Matching nightstands? Ok.
Source: Lonny
Matching nightstands, bedframe, dresser? A big NO.
I was trying to find an example that most people reading this would not likely have. I feel pretty confident about this one…fingers crossed.
Instead, purchase pieces that either complement each other or play with contrast. I find it easiest to get a collected feel by purchasing items from different stores.
INTERIOR DESIGN MISTAKE #8: OVERUSE OF OVERHEAD LIGHTING
There are places for overhead lighting, mainly kitchens and bathrooms. However, you don't need overhead lighting in most rooms. 
Ambient lighting is where it's at – mainly sconces and lamps
I much prefer table and floor lamps to overhead lighting. They are softer and you are able to control the mood so much more with the use of dimmers and timers.
Most rooms need at least 3-4 lamps. So look around those rooms and see where you are missing light and add those lamps.
INTERIOR DESIGN MISTAKE #9: USING PIECES THAT ARE TOO SMALL IN SCALE
Scale is huge and essential to keeping a space from feeling too cluttered…unless that is the look you are going for. Generally, bigger is better.
I much prefer one larger design element than many tiny little ones.
Most people go a little too small on scale, so if you can go bigger, then go bigger.
Oh goodness…did I lose you in all that? I sure hope not. Take these tips and scan your spaces and see where you can improve. And if you need help, well then please, just contact me. You can do that here.